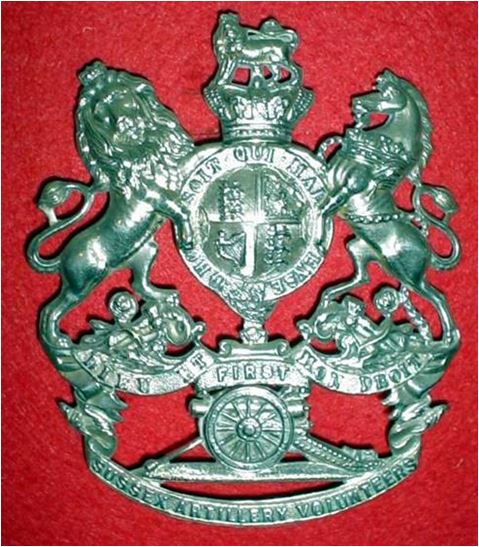 During the nineteenth century Shoreham Fort was garrisoned by the 1st Sussex Volunteer Artillery of Eastern Division, Royal Artillery, whose headquarters were in Brighton. Together with the 2nd Sussex volunteer Artillery, based at Eastbourne they were formed just before 1860 as Rifle Volunteers from the local rifle clubs and were quickly joined by artillery volunteers following the invasion scare of Napoleon III.
The Sussex Volunteer Artillery was considered to be foremost among Volunteer Artillery units and in 1865 at the Shoeburyness National Artillery Meeting it won the Queen's Prize and the Lord Palmeston Prize for accurate shooting. In 1896 they demonstrated the usefulness of an armoured train in the manoeuvres of that year when they achieved "excellent practice" with a 40-pounder gun which was deployed by train along the coastline between Newhaven and Shoreham. In the army list of 1896 Sussex is listed as forth of 62 in "Order of Procedure of the several counties in the volunteer Artillery Force".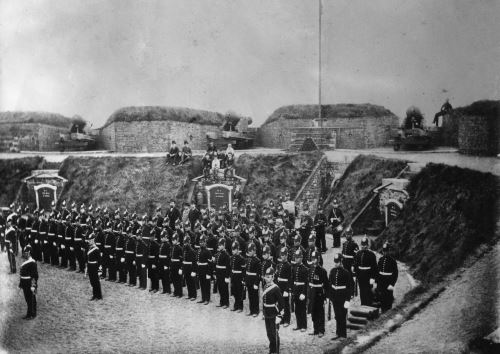 The photograph shows men of the Sussex Artillery Volunteers at Shoreham Fort Between 1894 and 1895 wearing the typical uniform of that time. The blue cork helmet has a distinctive badge plate which was peculiar to the 1st Sussex Artillery Volunteers. The officers wore a cross belt, waist belt with sword slings and swords, whilst the other ranks are seen parading with waist belts and Martini Henry rifles. the tunics and trousers are dark blue serge, the tunics with red piping and red stand up collars. Buttons, belts etc, are dull silver in colour.