Where has this year gone...............?
I really can't believe we are half way through October already - shame on me for not getting a newsletter to you since April but we have had such a busy and productive summer that I honestly don't know where to start....
The events that we have provided have been incredibly well attended, our likes are going up and up on facebook and our membership is steadily increasing too.
Don't forget to have a regular look at our website or on our facebook page for dates of when we are on site for a volunteer day.
Our volunteer days continue the whole year, rain or shine, and there will be hot or cold drinks available for you when you get there (and usually home made cake).
If you would like to become a volunteer then please either email secretary@shorehamfort.co.uk or pop along one day when we are there. Please don't think that it is only manual, physical jobs which we need volunteers for, we acknowledge that everyone has a skill and we'd be only too delighted to hear from you if you want to get involved.
Sharon Penfold
Secretary
Amazing Events Part 1 - Military History Weekend 2014 – 7th ~ 8th June 2014
I know we seem to say it each year but this year's MHW was indeed the best yet.
I suppose it's a good thing that we ourselves think that each time we do an event it improves, as it means that we are still giving it our all to make sure our visitors have a good time.
This year was our 5th Annual MHW and wow hasn't it grown. What started off in 2010 as an invite only event for the local residents on Gary's 30th birthday has grown to a two day event where groups from Hampshire, Kent, Surrey and Sussex join us to help us bring the fort back to life and help us give history a future.
We would like to thank all of you who came and either took part or joined us to make the most of the weekends activities. It was a really great weekend and we hope you all enjoyed it as much as we did.
How about this for an amazing photo. Trevor Slater certainly was in the right place at the right time.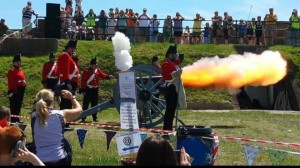 Thank you Trevor for letting us share your wonderful picture.
Next year's MHW is 6th ~ 7th June so make sure those dates are in your diary and we'll see you there.
Amazing Events Part 2 - RBL Bikers' Beacon – 4th August 2014
I honestly believe that this will be one of the most poignant events that the Friends of Shoreham Fort will ever have the honour of being involved with.
To mark the moment when Britain joined the First World War, 100 years ago, we joined forces with the Royal British Legion Riders Branch to take part in the national 'Lights Out Campaign'.
139 Riders joined us on the evening and lined the parade ground and the slope of the beach to pay their respects. At 21.55 all of the main beams of the bikes were lit and shone up to Shoreham Camp and the training trenches. Over 20,000 men were based at the camp at any one time before leaving our shores for France - many of them never to return.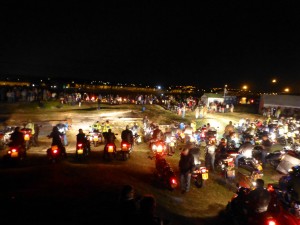 At 22:00 all the headlights were extinguished and the High Sheriff of West Sussex lit our Jubilee Beacon as our one lone candle.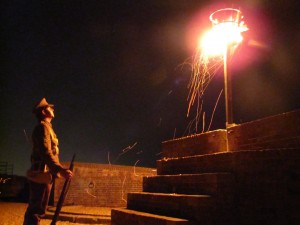 At 23:00 our beacon was extinguished and all the headlights were switched on - the moment we joined the war had been remembered.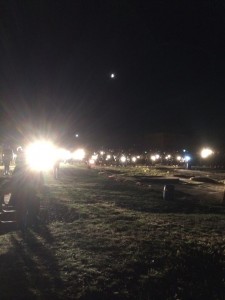 Words really do fail me when I try and explain this evening, still now I get a lump in my throat when I think of those buglers playing the last post and of the significance of why we were there - it is something I will never forget.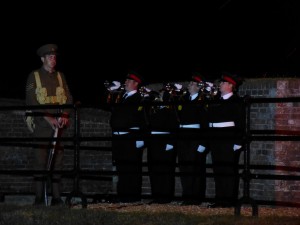 The RBL Riders raised a staggering £846.60 that evening and we have made some true and loyal friends.
Thank you everyone who made it possible: The High Sheriff of West Sussex, Father Terry Stratford, Richard and Daisy Durrant, 168 No Sleep, Watts Audio Hire, JJ Lighting and Sound, the Sussex and Surrey Drum and Bugle Corps, the Legion members who did the readings, our wonderful volunteers who helped ensure the evening ran smoothly, the BBC, Shoreham Herald, the RBL marshals (amazing job clearing site -139 bikes off site in 15 minutes), Martin Johnson - Sussex Riders Branch Rep and reason the event happened and then of course.......
The riders!!!! Thank you guys and gals - we genuinely couldn't have done it without you.
Craig Searle captured the Bikers' Beacon on film for us - you can watch it here.
Shoreham should be genuinely proud that we were able to play such a significant part in marking such a significant event in our country's history.
Amazing Events Part 3 - What's next? – 9th November 2014
Our Remembrance evening is possibly my favourite annual event of the year.
A chance for the community to join together and take part in an evening which is all about time for personal reflection for those who we have loved and lost - be it through old age, illness or war.
The evening is started at 17:30 with 168 No Sleep playing, as they have done each year.
A non-denominational service is taken by a local Vicar and we are hoping that Rev Ann Waizeneker from St Mary's, Shoreham, will be joining us this year.
We then have a reading.
After the service and the reading we invite the members of the public to light a tea-light and once all have been lit we shall light our Jubilee Beacon.
Ode to Remembrance will be read and then a command to fire a single round will be given, taking us into a two minute silence. At the end of the two minutes the command will be given for another single round to be fired, marking the end of the silence.
Our guest vicar will then end the evening for us.
Refreshments will be available throughout the evening from 17:00.
As you can see, the fort looks beautiful when lit up by the tea-lights and is a lovely mark of remembrance to all those who they represent.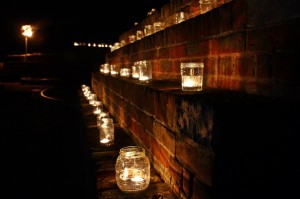 Thank you Terry May for the use of this photo
These past months have been incredibly busy with groups coming to the fort and us going out and doing presentations.

Here is a small selection of visit and visitors:

We had the absolute pleasure of welcoming Superstar Arts to Shoreham Fort for a mini tour

Adur Voluntary Action visited the fort for a picnic to thank their volunteers for all their time, commitment and dedication (If any of our supporters don't know what amazing work the AVA does then have a look at their website). They are now based in the Old School House in Ham Road, Shoreham and have a lovely meeting room which people can hire. They can also be reached through the Lancing Village Action shop and the Sompting Big Local shop

We've had groups of local Beavers, Cubs and Scouts joining us for a tour and a chance to take part in the children's parade ground drill with Gary
We have had the pleasure of Creative Waves joining us for a WWI workshop they were running in preparation of the WWI Discovery Trail around Worthing - we had string barbed wire being made and beautiful banners being prepared from printing. We're looking forward to continuing to work with these amazing people
On Sussex Day, in the evening, we saw a visit from the Surfleet Worthing Historical Group. The group joined us for a tour
Sompting and Lancing U3A Local History Group joined us for a personal tour
32 members of the Southwater Local History Group actually joined us for a tour and a cream tea on a beautiful summers day and our new benches we well used. If you look at their past events on their website, you will find their visit with us

Early in August Shoreham and Southwick Rotary Club join us for a tour

A few days later, saw us giving a presentation to The Royal Engineers Association, Brighton Group, at the Royal British Legion in Lancing. Running in the background whilst they had their meeting was Craig Searle's Bikers' Beacon video

We had the privilege of meeting some of the people behind ATN - Adur Talking News. These ladies and gentlemen meet weekly to record news stories and then deliver CDs to the blind or partially sighted so that they are kept up to date with local current news

Following on from a presentation we did last year, we once again had the pleasure of seeing Worthing Steyne Rotary Club. They joined us for a guided tour

Wadhurst U3a were our hosts at their AGM and our new projector was put through its paces, and proved a worthy investment, on their massive screen. We are looking forward to welcoming this group on site next year

Our largest tour, so far, was to the West Sussex WI - we had over 70 members join us and we got the NCI on board to help us when we split the group down for the tunnel section of the tour. Thank you to Barrie Turner and his volunteers for being such wonderful co-hosts

Our largest presentation, to date, was to the Patcham U3a - their room capacity was 100 - there were 2 empty seats that day

This doesn't really scratch the surface of the people we have met this year alone, the list is endless but has not yet ended, we are actually getting people ringing and asking if we can join them in 2016.

If you belong to a community group who you think would enjoy a presentation from us, or a tour with us, then contact Sharon via secretary@shorehamfort.co.uk All we ask is for a donation from the group making the booking and if we come to you for a presentation we ask that we be allowed to put out a collection bucket for any of your members who may wish to make a personal contribution.
Gary and Sharon have been working really closely with Adur and Worthing council on a new 'On Your Doorstep' campaign and it is nearing its launch........

"The vision of the campaign seeks to engage, enthuse and entice the people of Adur and Worthing to build a sense of pride and passion about their place, enabling them to increase the number of visits and spend locally"

In a nutshell, we want to encourage local people to visit local businesses and attractions - things that are on their doorstep.....

If you are in the Adur and Worthing area and want to raise the profile of your business with local people; share and learn through the experience of others; automatically get free inclusion in all marketing materials for the campaign and be able to network with other local business through events and the LinkedIn group then email tourism@adur-worthing.gov.uk
Being a member of the Friends of Shoreham Fort not only means that you are supporting the charity, you also get access to a wider range of research and, due to the generosity of First Foot Clinic in Shoreham High Street, you get a special introductory offer on your first appointment.

Thank you Karen and Martin for approaching us and offering your kind support.

Membership is open to everyone and you can quickly and easily - find out more
Santander in Shoreham High Street approached us in May and said they would like to support our charity and help with fundraising.

We were given a week and whatever we raised in that week their head office would match fund. The girls in the branch were brilliant - they had an amazing raffle arranged, with support from some of the local businesses and towards the end of the week they baked cakes for us to sell too.

With the match funding we raised over £1000 that week in June.........

Many, many thanks to Santander Shoreham branch for your support and also all the local businesses who donated raffle prizes!