Welcome
The Fort's grass has had its first hair cut, Spring is here and the Friends of Shoreham Fort have a spring in their step too...

Welcome to all our new members, we really hope that you are enjoying the members section with Hilary's fantastic research which continues to grow.

We would like to invite you all to come and see us at the fort on our volunteer days as you will get the benefit of a free tour at 13:00 and 15:00.

If you would like to volunteer with us but are worried that the work will be too hard for you, please be reassured that there is a job for all either at the fort or behind the scenes.

Fundraising, bid collation, research are all things which can be done from the comfort of your own home but would really benefit the charity.

Litter picking, photography, site monitoring, grass cutting, weeding, digging, excavation work and general maintenance are all jobs that can be achieved with a little or a lot of effort but they are all equally as rewarding and the family feel of the group ensures that all are made to feel welcome.

We look forward to seeing you on Sunday 20th April between 11:00 and 17:00 for our Big Launch Day, see below article for more details.

Sharon Penfold

Secretary
The Friends of Shoreham Fort have been working tirelessly over the last two years on projects which were funded by the Adur Pot of Gold and the Big Harbour Community Pot.

The total sums awarded in 2012 was £25,000!

With this money we have commissioned information panels and scale models.  We have had brown tourist signs installed and purchased picnic benches and park benches for use while enjoying drinks and cakes from the recently installed kitchen in Food for Fort.  Tables and benches have also been purchased to help furnish our WWII Nissen hut, which we rescued from Chidham near Chichester.

We also have an interactive touch screen PC, new flags and an alarm system too.

Debbie Kennard, West Sussex County Councillor, was Chairman of Adur at the time of the award and she will be officially opening the Nissen Hut along with Tim Loughton, MP, who is a regular volunteer with us.

To compliment the WWII theme of the Nissen Hut we have vehicles of the time, including the Bedford Truck that starred on TV at the Fort when Sara Cox filmed 'War Hero in my Family'.

We have the Royal Sussex Living History Group with us in authentic uniforms; they will be displaying their extensive gun rack, giving parade ground demonstrations and inviting the children to join in with a parade ground drill routine.

We will have the air-soft range in the Eastern Caponier by the Nissen Hut, we've also got history hunts, egg hunts and egg decorating.

To top it off there are free egg and spoon races, sack races and colouring sheets.

If this wasn't enough we have a raffle with the first prize being pictured above including the lovely teddy donated by Xpressions gifts and cards in Shoreham High Street.

Come and join us for what promises to be a fun filled, low cost family day out........
After months of planning and preperation, this evening several members of the Friends of Shoreham Fort attended the presentation stage of the Adur Pot of Gold.  Gary Baines and Amanda-Jane Grimshaw made our presentation to the panel and over 100 people.

We're delighted to report that we secured the £10,000 required to enable our trench to be a reality.

Many thanks to Andy Vincent, Tony Gilfrin, Gary Cambell-smith, Peter Briggs, Ant & Maddie Evans, for representing the Friends tonight.

A huge thank you to all that helped through out the application process :)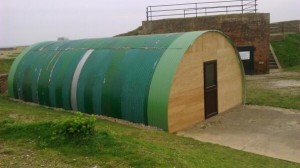 What a beautiful day it is again today!
Today at Shoreham Fort we are doing something a little special....
Our 'secret project' is well under way and our small team of volunteers will be carrying on the hard work they started yesterday.
We have a selection of our gun rack on display with thanks to the Royal Sussex Living History Group.
We have our tour guides on hand to give smaller, introduction tours throughout the day.
We have special guests manning a BBQ for us at lunchtime to help with a recruitment drive for volunteers.
There is plenty of jobs - some big, some small - for all you volunteers out there who want to get involved too - It won't be on the secret project (too many cooks and all that) but you will be able to get a taste of what it is like trying to maintain and conserve a Scheduled Ancient Monument.
If you aren't able to get involved with the physical side of things, come down and see us and show you support by buying a burger or a hot/cold drink and a piece of cake.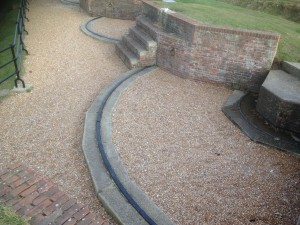 Wow! What a difference a day makes!
Thanks to Lee and Ivan at Stamco, we had 10 bags of shingle delivered. This shingle has been partially spread across the Terreplein, it looks like we will be needing another 2 loads! Many thanks to Stamco, Lee & Ivan for the delivery.
Thank you to all the volunteers today that worked so very hard to make it a really really productive day.
You guys are all awesome!
Join us...
Want to help?
We're always in need of equipment, tools, and items at the fort... here's a few things on our wish list:
Projector
Doors for Food for Fort

A big THANK-YOU to Vevo Vision for their donation!

Doors for the Nissen Hut

A big THANK-YOU to Vevo Vision for their donation!

Projector Screen
Wheel Barrows
Calor Gas Heater
If you're able to help, or have contact with someone who can, then please let us know
Research
Do you recognise one of these names? Perhaps a family member or friends family?
P. H. Boxall
A. A. Peggram
T. Markwick
Let us know - They might be connected to the 1st Sussex Artillery Volunteers who were based at Shoreham. Any information is greatly appreciated.
Connections